Picture of the ending waltz (NOT from the current Broadway production)
It all ends in one swirling waltz, with both past and present people circling each other in a ring of time and thought. Indeed, Stoppard's Arcadia, currently running at the Barrymore Theater, gives the sense that time dances with itself as well. The two intertwined narratives, one in the 1830s and one in the present day, step around each other in the space of an old British country house, never touching except perhaps if the present day inhabitants feel a ghost-like chill as they research the earlier characters.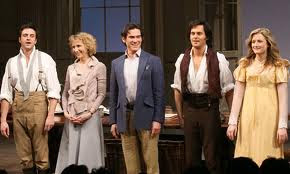 Aptly played by most of the cast, except perhaps a really galling and annoying portrayal of Bernarad Nightengale by Billy Cudrup that toned itself down in the second half, the lines were spoken well. (The NY Times disagrees here.) Stoppard loads his lines down with so many -isms that are then undercut by so many comedic lines that just getting them out naturally and so that the audience can follow deserves applause. The characters themselves are warm and human, if not particularly fleshed out. In their limited roles, the mouthing of Stoppard's suddenly heart-wrenching epigrams, full of yearning and paradox, can seem a little startling.
Many of Stoppard's plays have been history lessons as well, bringing us into the intellectual thoughts and mores of an era. Nothing revolutionary happens here, and a quick explanation of plot or purpose is hard to come by for Arcadia. Set in Sidley Park, an English country house, the research of two modern scholars and the house's current residents are juxtaposed with the lives of those who lived there 180 years earlier. In the present, writer Hannah Jarvis is researching a hermit who once lived on the grounds of the estate and Bernard Nightingale, a literature professor, is investigating a possible connection to the life of Lord Byron. As their investigations unfold, helped by Valentine Coverly, a post-graduate student in mathematical biology, the truth about the 1800s era residents Thomasina Coverly, the daughter of the house, and her tutor Septimus Hodge, is gradually revealed.
What the actors do very well is make the search for knowledge and truth a passionate, heartfelt affair. The possible futility of it lends pathos to the character's individual searches. Time and Sidley Park brings them together for a brief moment. Altogether, a little wilder than the average Bristish country house story.